Indoor Air Quality Products for Home & Business
Welcome to Fresh-Aire UV, makers of the world's best whole-house UV light and activated carbon air purifiers. Our products clean the air throughout your home or business because they are installed directly inside your central air system. Microbes and odors are eliminated as air cycles repeatedly through the system
Residential & Commercial
We all need clean air to be healthy and thrive. According to the EPA indoor air pollution is often five times worse than outside air. Fresh-Aire UV products protect your family or business, extend the life of your air system, and reduce energy and maintenance costs.
The Other Two Thirds
Indoor air pollution can be divided roughly into thirds:
PARTICULATES, MOLD/GERMS, ODORS/VOCs
Conventional filtration is effective against particulates, like dust, but has no effect on the other two thirds. Fresh-Aire UV light products, such as Blue-Tube UV, are proven to sterilize biological contaminants like mold, germs, and viruses in the air and on air system surfaces. Our award-winning APCO products neutralize odor-causing VOCs as well as biological contaminants inside the air system and throughout the home.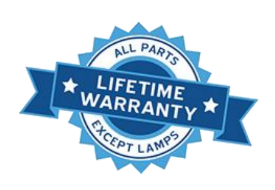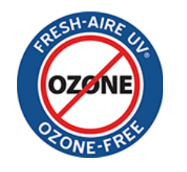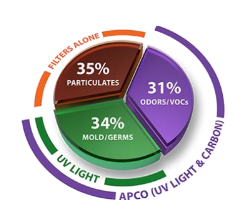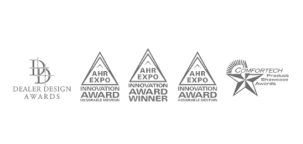 Why Fresh Aire UV brochure
Be Prepared for Wildfire Season
Dry conditions can lead to forest fires. Be prepared with the best filtration product for smoke, smog, ash and soot prevention and improved indoor air quality!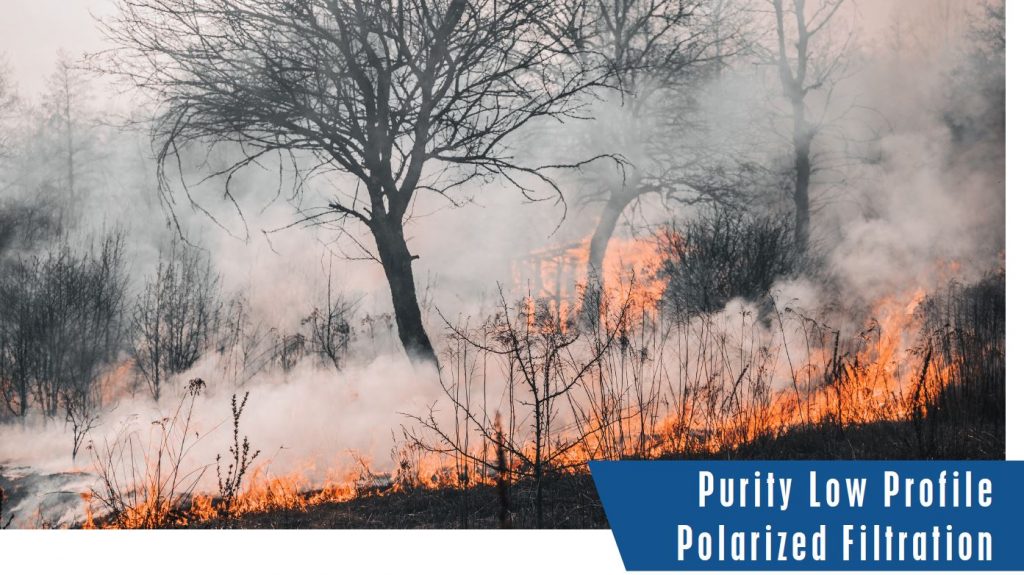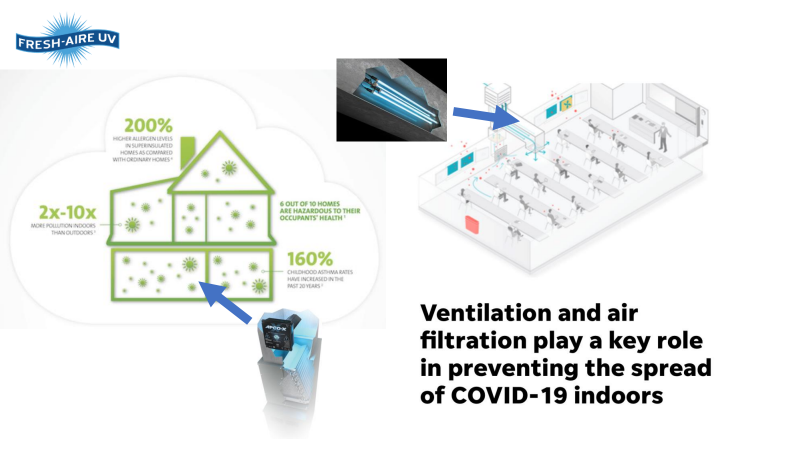 Aire Foil
®
UPPER AIR UVC DISINFECTION FOR OCCUPIED SPACES
The need to protect occupied spaces from airborne pathogens has never been greater. Fortunately, Fresh-Aire UV germicidal lights have been proven to neutralize viruses, mold, and bacteria within seconds of exposure.
The Fresh-Aire UV Aire-Foil features 15" – 60" high-output UVC lamps and is wall-mounted near ceiling height. Upper air UV-C disinfection is an ideal method to mitigate the spread of microorganisms in occupied spaces. As air naturally heats and cools it moves by convection, which continuously circulates it throughout the space. Airborne viruses and bacteria are sterilized when exposed to the UVC light field.
The Aire-Foil unit is installed at a minimum height of 7' and is designed with louvers that shield occupants from UV exposure by projecting UVC light rays parallel to the plane of the ceiling.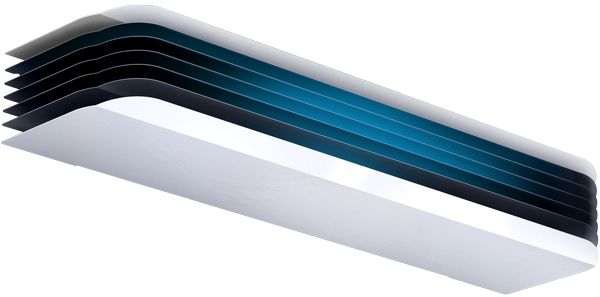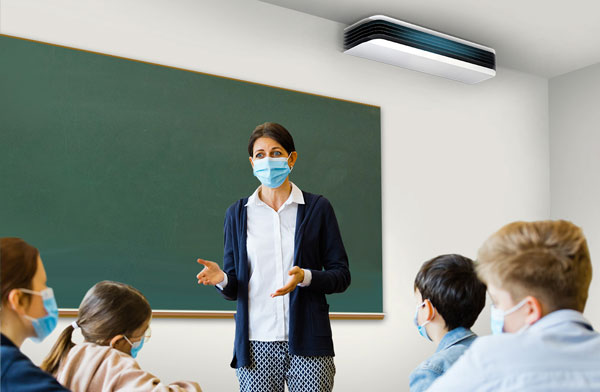 The Most effective whole-home air treatment system available.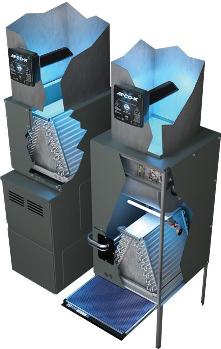 AIR TREATMENT
Sterilizes biological contaminants with Quartz UVC Lamp
Coil Cleaning
Install above the evaporator coil
CAPTURES VOCs,
then uses a PCO process to break them down until fully oxidized. Released as water and CO2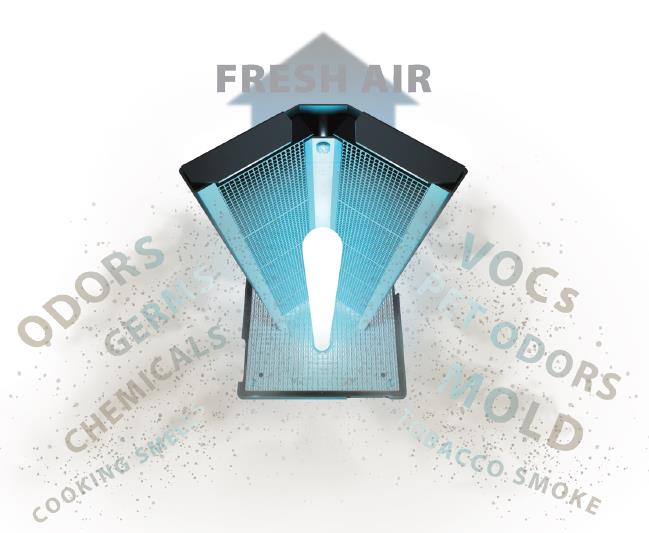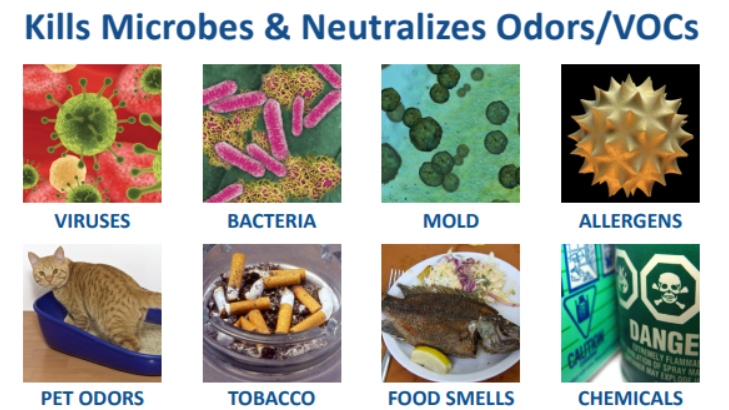 First HVAC LED disinfection solution
Patented award winning technology
40″ flexible LED ribbon easily cut-to-length
Maintain a clean mini-split free from mold & biofilm
Safe for plastics
Quick & easy installation w/ adhesive backing
120-230V auto-sensing
5 year warranty & 50,000+ hrs. LED life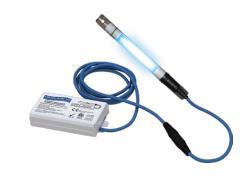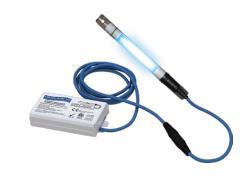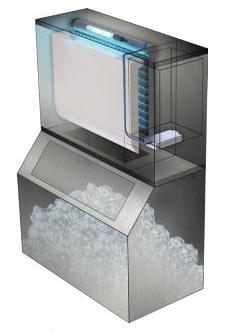 Single Lamp System:
On lid between evaporator and deflector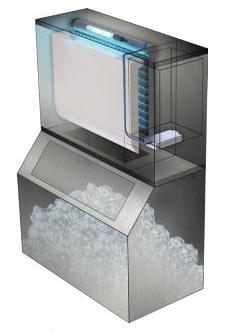 Dual Lamp System:
On lid and over collection bin. use with optional interlock switch
ADS Airborne Disinfection System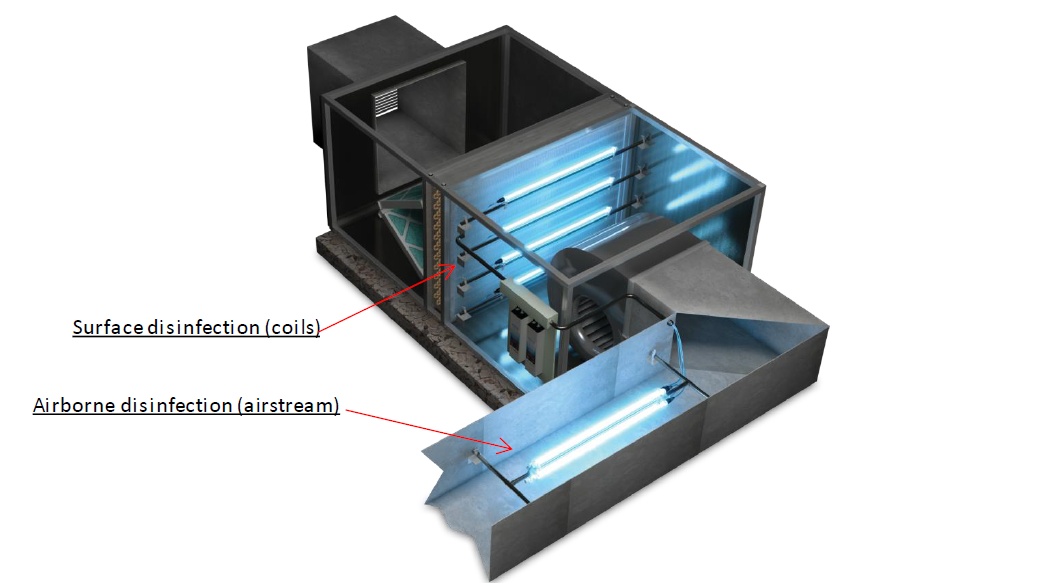 Fits any AHU multiple mounting options watertight IP rated sizing sofware dry contact connections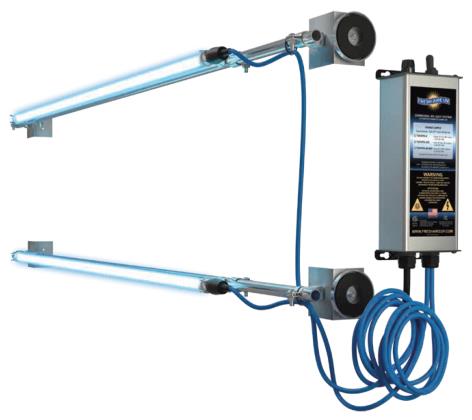 Airborne disinfection (airstream)
Airborne Duct System(TUVC-ADS-xx): The ADS System is designed for air-stream disinfection and typically uses high-output lamps. These systems can be custom-configured with up to six lamps. Everything necessary for installation is included in the kit.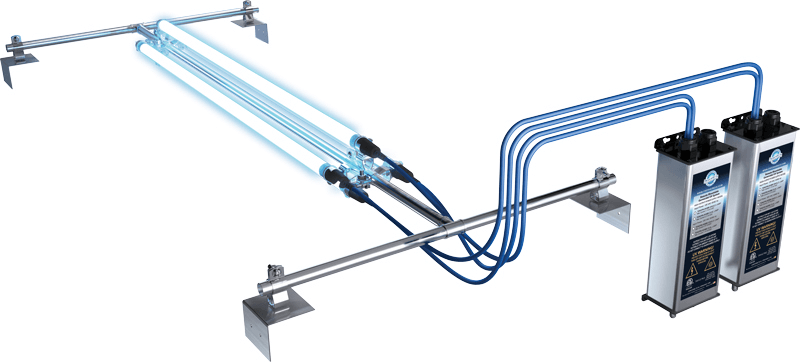 Airborne Duct System (ADS)
uv light for ptacs & fan coils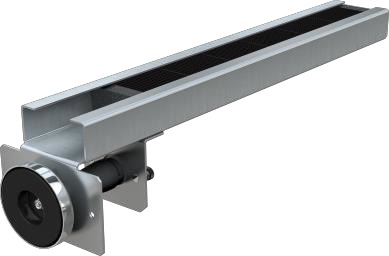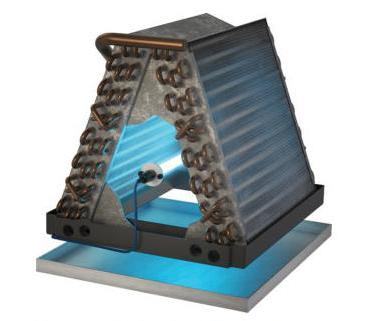 Blue-Tube UV fights mold on AC coil and drain pan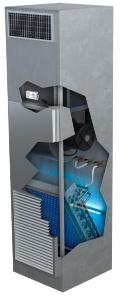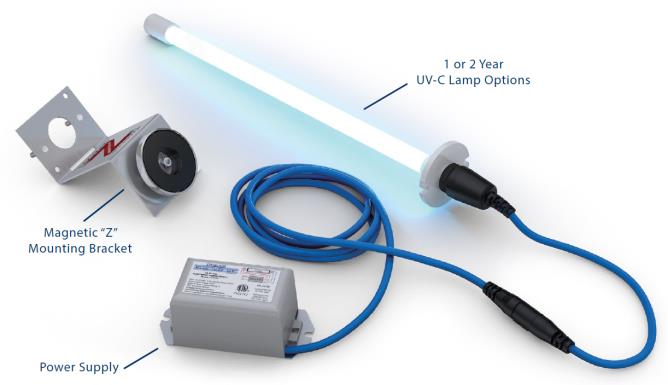 Indoor Air Quality Experts
UVGI Air Purification Installation Free BlueCalc Analysis & Report
As trained Air Purification consultants, we will work with you throughout the design and installation of your commercial UVC system. This will provide you with all the information necessary to configure the best possible UVGI solution for your project. Our experienced product experts will examine the parameters of your application and analyze them using the proprietary BlueCalc Software.
The free analysis & report generated by the BlueCalc Software contains a description of the precise number and placement of UVC lamps needed to achieve the goals listed in the BlueCalc Analysis & Report Request Form. For HVAC applications it also contains graphic representations of the estimated pattern of irradiation on the cooling coils or air stream.